Our latest DIY storage project was to build a wall-mounted bike rack with a bench in our garage to store our bikes. This storage project keeps our bikes out of the way but still allows them to be easy to grab for a quick bike ride around the neighborhood.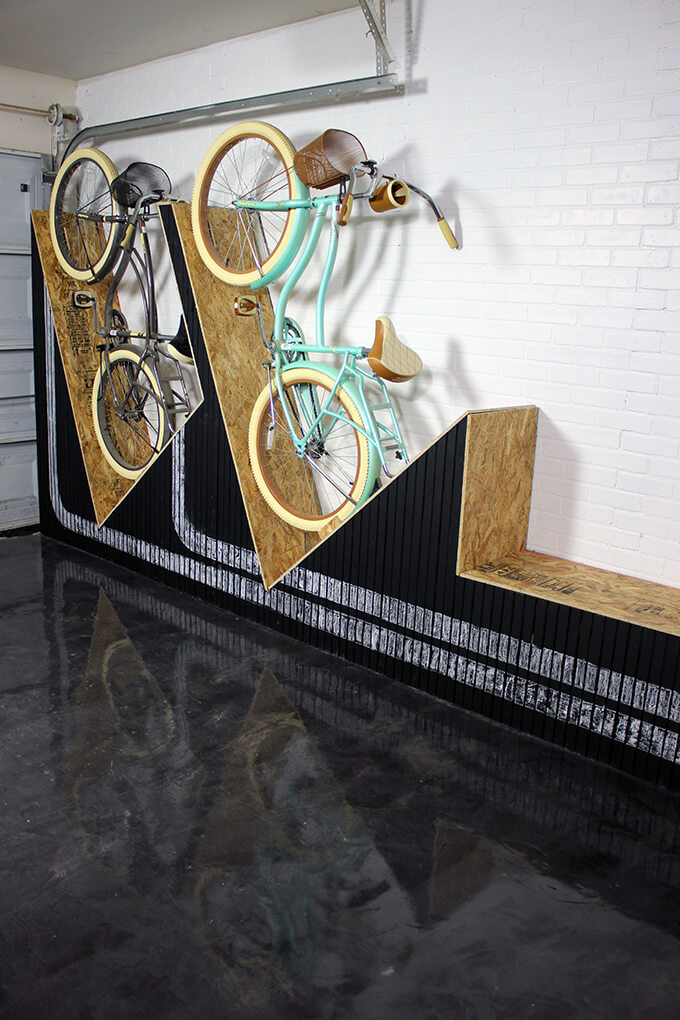 Operation organize garage/shop is currently underway. You couldn't tell by looking at the space because it is a complete disaster at the moment but things must get messy before they can get clean, right? We did get one wall finished in the garage and a large scale storage project so we are making progress.
For one of the large walls in the garage we covered it with more of the faux brick panels like we did in our home gym. This time we painted them white. The rest of the walls with be gray (of course). For the garage we are going with Sherwin-Williams Gauntlet Gray for the wall color.
Also, we finished the wall-mounted bike rack DIY project that we have been building the past two weekends! We are excited to give you the scoop on how this project came together.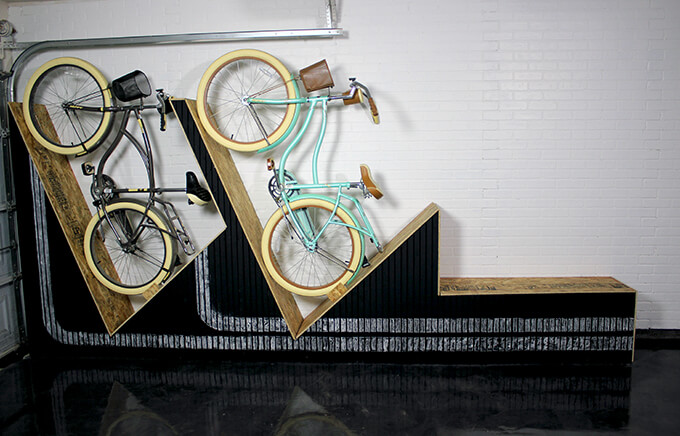 Last year we got bikes for Christmas which have been really fun to ride around our neighborhood and to the park but we didn't have a great place to store them in the garage. They mostly just hung out right by the garage door but were always getting in the way.
When planning the design of our bike rack storage project we had the following criteria:
1. The bikes needed to be easy to access
2. The bike rack needed to accommodate two bikes
3. The bike rack needed to take up as little space as possible depth wise
4. The bike rack needed to have a fun design and match the rest of the garage
5. BONUS: The bike rack could have additional functionality of an attached bench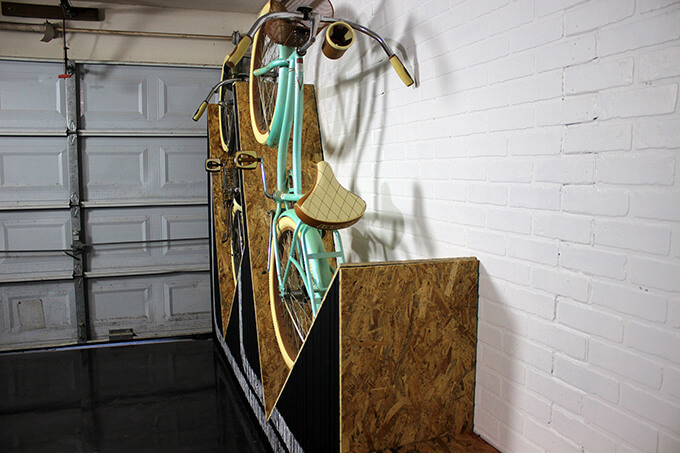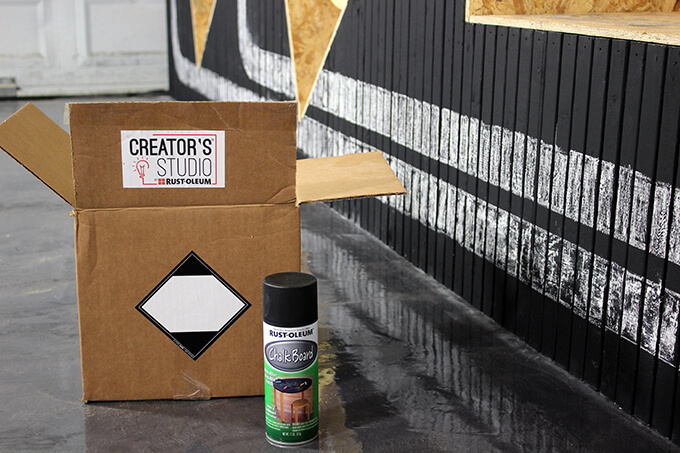 While we are talking about the bike rack, we entered this project in the Rust-Oleum Creator's Studio Blogger Challenge. They sent us a box of different types of spray paint and stains and we choose this chalk board paint to use on our project.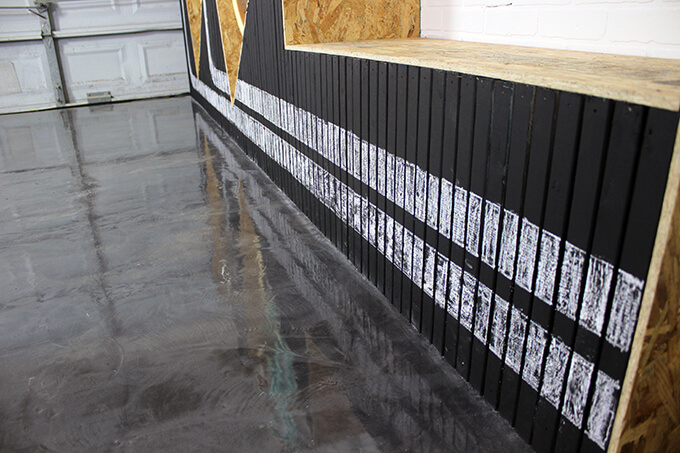 Since this was one our "make it up as we go because we don't have anything to reference" projects, it took a little while to find our groove and some trial and error experimenting. These types of projects are always frustrating when you are in the middle of problem solving but are always the most rewarding when you see it completed.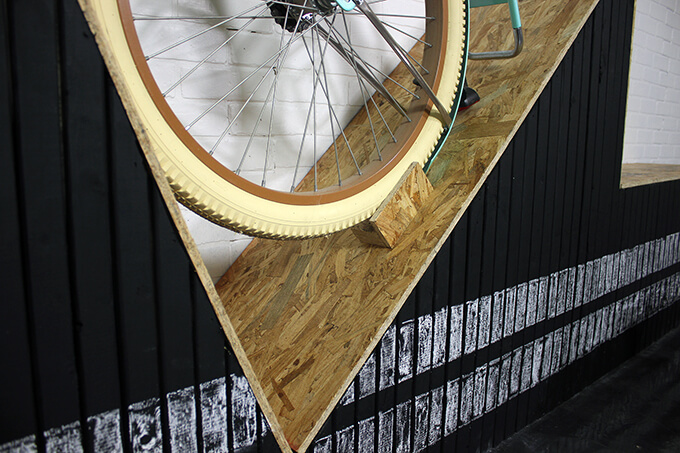 Below is our process for building our wall-mounted bike rack with a bench.
How To Build a Wall-Mounted Bike Rack
SUPPLIES
FYI: This post contains a few affiliate links to products we used to make this project. Gray House Studio does receive commissions for sales from these links but at no extra cost to you. We appreciate you supporting this site. Read our privacy and disclosure policy. You can also easily shop our recommended products here.
DIRECTIONS WATCH
Never Miss A Gray House Studio DIY Video Subscribe to our YouTube Channel
DIRECTIONS READ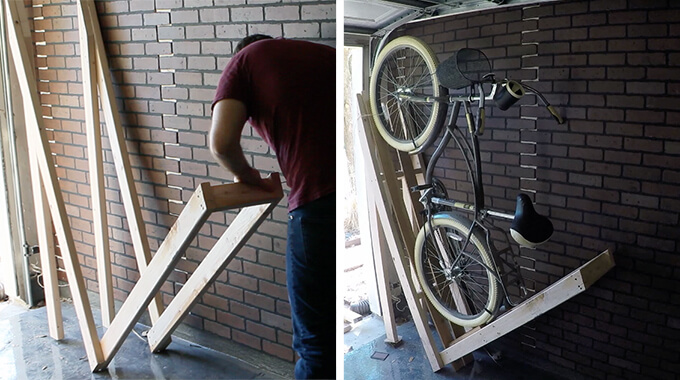 1. To build the bike rack we started by making two V shapes at a 70 degree angle with 2″x4″s. Then we connected the V shapes with horizontal braces. This made the structure 16″ wide. After adding vertical 2x4s to stabilize the V structure, we loaded a bike to check the fit.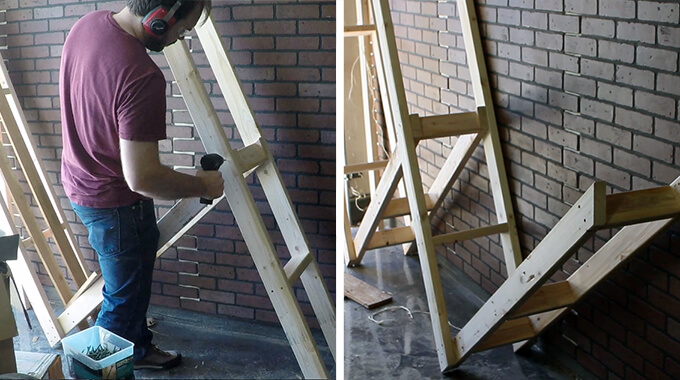 2. Once the bike fit, we created another V shaped structure and screwed it into the end making a large W shape.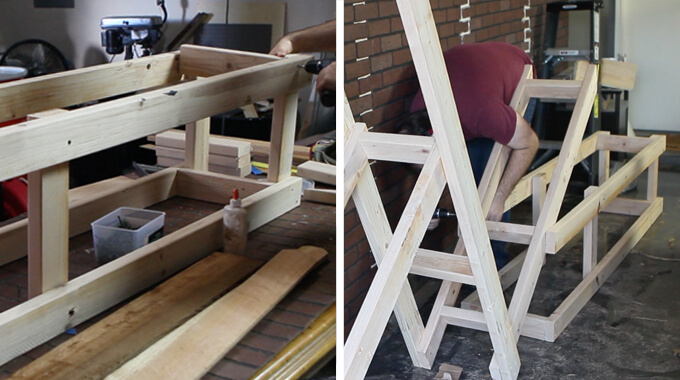 3. We wanted to incorporate a bench on the end of the bike rack so we built a box out of 2″x4″s. We built the box to be 18″ high and attached it to the end of the W shape with screws.
4. Before lining the outside of the bike rack with wooden slats, we attached 2″x4″s to any of the recessed sections of the braces to make one consistent and level surface.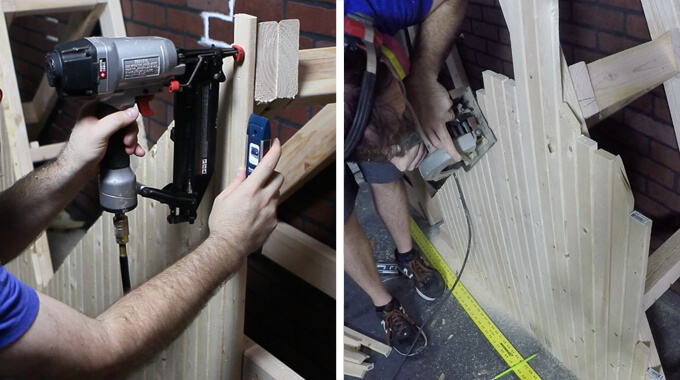 5. We used cheap 1″x2″ pine boards for the slats and cut them to be just longer than the bike rack is tall. After leveling and attaching each slat with brad nails, all the boards were cut to the correct height with a circular saw.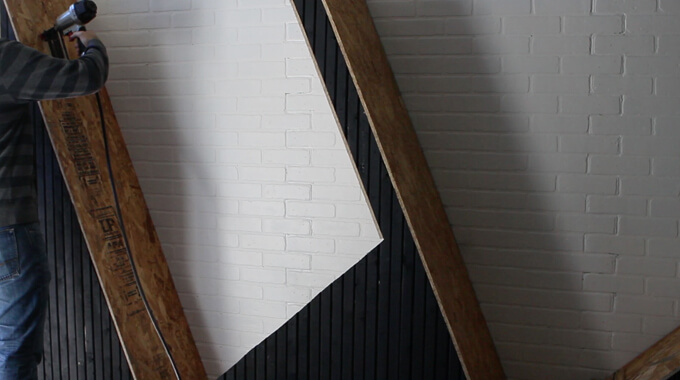 6. We lined the top of the bike rack with OSB sheets. It took three sheets to cover the entire rack so OSB ($12/sheet) provided a significant cost savings over plywood ($34/sheet). Plus, it creates a unique industrial aesthetic that we were going for with the design.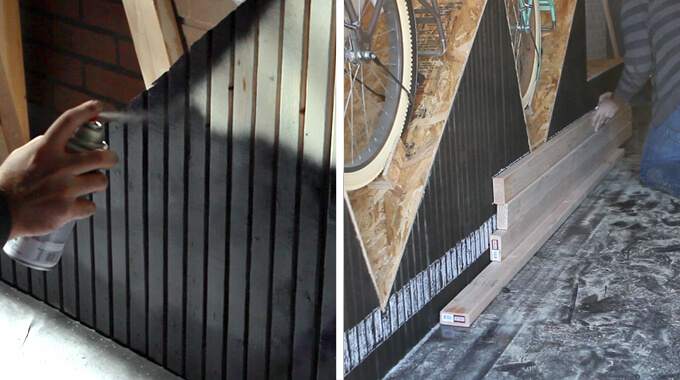 7. Finally, we painted the slats with chalkboard spray paint. Typically we would roll large surfaces with paint but due to all the gaps between the slats we opted for spray paint and were impressed that it only took two cans.
To complete the design, we added two decorative stripes with chalk. Extra 2x4s made for a great straight edge for the lines.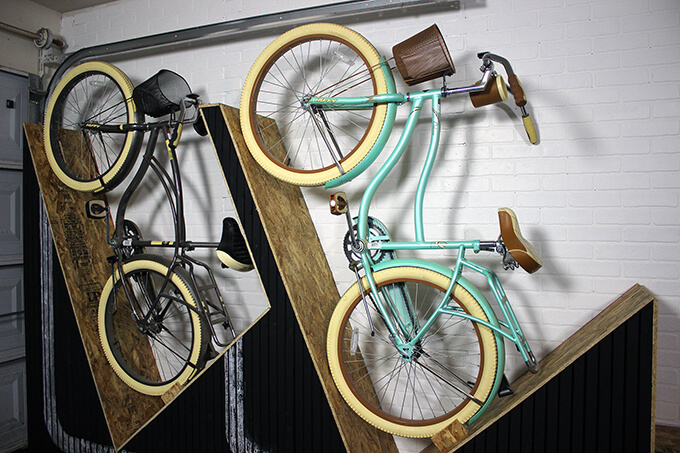 We initially stained the front slats of the wall-mounted bike rack a light blue and it just wasn't sitting well with us. We tried to do something different but in the end we didn't like it.
We took a few days off to think about it and decided to paint the slats with a chalkboard paint instead. This way we can switch up the chalk design and it will go much better with what we have planned for the garage and just fits our "Gray House" aesthetic in general.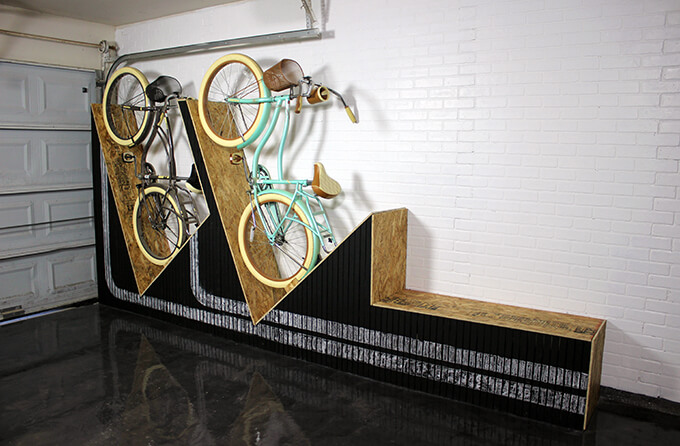 We are happy with the results of our DIY wall-mounted bike rack. We were able to check off all of our must-haves for the project and included the bonus bench too! I am happy to finally have some seating in the garage and like that it is built in rather than just having a random old chair stuck in the corner!