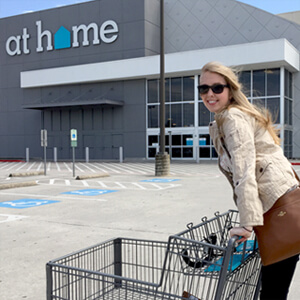 Details about our adventure power shopping for our back patio at At Home.
I am about to break a stereotype here. I am a woman and I do not like to shop. There I said it. I'll wait a minute to let the gasps quiet down.
When it comes to shopping for our home I do it sparingly. I am very slow to pull the trigger on purchasing any decor or furniture pieces for our rooms. I used to get overwhelmed with the thought of decorating a space, wondering how I would know if all the pieces I picked out would work well together and if I actually liked what I was picking out or if I was just buying it because it was cute or on sale.
So I took a different approach that might be a slightly unconventional way of home decor shopping or an unconventional way of shopping for a female. I used this method on our past two room makeovers (the home gym and guest room) and it has worked well for me and allowed me to focus on the design of the space and the general style of our home ensuring that I choose pieces that we genuinely like.
My preferred method: power shopping.
Usually, our room makeover process goes a little something like this:
1. Brent and I plan out a room or space. We online window shop for ideas, create a vision board post, and we set a general budget for what we would like to spend on the room.
2. We list out all the DIY projects for the space that we want to tackle. Then we do all of our DIY projects first and make waaaaay too make trips to the hardware store.
3. I wait until all the DIY projects are done before buying anything for the room and then I stand in the room and make a list of all the new items I will need to purchase to make the room feel complete and make note of the amount left in the budget to spend on finishing touches.
4. I power shop for the items on my list all in one day, all in one shopping trip and I always bring along a shopping partner (usually Brent or my mom).
While this may not work for everyone, I have found my power shopping method works extremely well for me because my shopping trips are limited, I know my specific budget for the shopping trip, I don't lose focus and I am tuned in to shopping for those specific styles and pieces. I always look for good deals and a fun splurge item as well.
I love coming home from a power shopping trip and immediately going to the room and arranging all the pieces in the space. It is so satisfying to me to buy just the right amount of items, that each items feels like it definitely fits the design of the space and that we genuinely like every single piece. It is almost like a challenge that I now enjoy. As long as it is only every now and then.
Power Shopping for our Back Patio
The next space we are making over is our back patio (you can see our plans here) so for my latest shopping trip, I brought Brent along with me and we power shopped for all the finishing touches we needed to complete our soon to be freshly made over and colorful outdoor space.
We were excited to do our shopping for our back patio at At Home because they have such a huge selection that it was almost a guarantee that we would be able to find everything we were looking for there and wouldn't have to travel all over town like I normally do on my power shopping trips. So with a budget of $500, we set off on our shopping adventure.
The store is huge and the first thing you notice when you walk in the door is the large selection of indoor and outdoor decor and furniture they offer, especially cushions. If you are looking for cushions, this is the place to be. They don't just have a wall of cushions to choose from they have aisles and aisles and aisles (I am not exaggerating) of every colored cushion imaginable and at prices that won't make you cringe. Within each color are a variety of different shapes and sizes of cushions and matching pillows.
As I was testing out the cushions, I started daydreaming and it popped into my head that I am pretty sure you could build the largest cushion fort known to man in an At Home store. I am an adult so obviously I wouldn't actually do that… but the possibility is there, just saying.
We brought our measuring tape to measure the different types of cushions to see what style would work best with our seating. Having all those options made us change our mind three times, but in the end we really did get the exact style and color cushions that we wanted. It was nice not to have to settle.
And remember, when the sign says "Ask for assistance when getting items off the top shelf." It is there for a good reason. Brent learned this lesson. Ha. At least they were just cushions. I think Brent secretly wanted to have a cushion fight. And, the cushions won. I am telling you, there is just something about seeing all those cushions that brings out the kid in you.
If you are looking for outdoor pots, you definitely are going to have a hard time choosing your favorite from all of these. They cover a variety of styles so whether you are in to the big concrete planters or more of the colorful ceramic planters they have you covered for sure.
Just remember to be careful getting them off the shelves. Someone knocked three or four off the shelf a few aisles over from us and the kid in me yelled. "It wasn't me. I am right here."

After cushions, the next item on our list was an umbrella. I like that they put all the items they have on display so you can easily identify which color and style you want. We went with a 10ft. offset umbrella in a neutral color to balance all the color we are adding with our other pieces. The umbrella, stand and base were all $80. You can't beat that price for that large of an umbrella. That one was a score.

The great thing about At Home is they not only have a lot of color options in just about every department but also a lot of styles within the colors and the colors all coordinate with each other throughout all the different pieces. If you want a blue chair you are not stuck with choosing the one blue chair offered but rather can choose whatever style blue chair that suits your taste.
We liked knowing that the blue chair would match our blue pillows because they all came from the same place. If you are a lazy shopper like me, then it takes all the guesswork out of running around to several stores to make sure your items coordinate perfectly. At Home already is set up in that way.

While they had some really cool blue chairs and it was hard to make a decision, we ended up going with the best bang for our buck and got five of these blue ones for $19.99 a piece because we needed several chairs to go around our outdoor table.

The best part of power shopping at one location is the look on the cashier's face when we roll up with two carts full of stuff, half excitement, half dread. So. Many. Pillows.
It was a fun shopping for our back patio at At Home and as usual I was exhausted by the end but we have so much cool stuff for our outdoor space. We were able to get cushions, pillows, a rug, an umbrella and five chairs all for $500!
Then…we realized we had to fit it all in the back of my Jeep (the downside to power shopping). It took some strategy and patience to get an umbrella, 8×10 rug and five chairs in a small space but we did it and were super proud of ourselves and while in the parking lot we already got a compliment on our rug choice.
We can't wait to show you exactly what we ended up picking out and how it all ties together with our back patio plans. Stay tuned to see how our back patio makeover turns out!
This is a sponsored conversation written by me on behalf of At Home. The opinions and text are all mine.