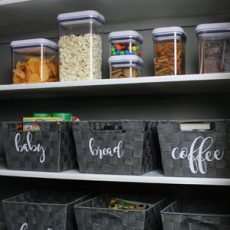 Check out the before and after of our pantry makeover. We cleaned, organized, and gave our pantry a fresh coat of paint to spruce up the space.
We are in the middle of working on our master closet renovation so naturally I pulled everything out of our pantry to clean it. It's like I always say, "when in the middle of making a mess, why not make another mess in another room".
One thing led to another and this weekend we did a pantry makeover. I was determined to make quick work of this project. Since we had a three-day weekend and Brent was home to lend an extra set of hands painting and with the baby, it seemed like the perfect time to knock a pantry transformation out.
Our Pantry Makeover Progress
*This post contains a few affiliate links. You can read our disclosure policy here.

The photo above is what the pantry looked like this time last Friday. The pantry has been driving me nutso lately because it was getting out of control. Plus, there was too much stuff on the floor that I couldn't properly sweep it.
One day I didn't have my glasses on and saw something on the floor that looked a lot like a certain kind of bug that I despise (a roach) …it was a false alarm, just a rouge almond, but this was my cue to get this baby cleaned up!
First, I pulled everything out of the pantry to clean the floor and shelves. After the mess had spilled out into the kitchen, I looked around and instantly regretted starting this project. Ha.
Why is it once you pull everything out of a space to clean it, you suddenly lose interest and/or get overwhelmed with the undertaking.
Once everything was out of the pantry and it was clean, I thought, "Well I might as well paint it". Especially after I took a look at the disaster happening on one of the walls. When you first walk in the left wall had all kinds of crazy things happening that needed to be fixed.
There were some huge holes in the drywall and a large random screw sticking out the of wall (a gift from the previous owner). Plus, some weird dried yellow glue that was dripping from one of the holes.
I can't believe that we have lived here for three years and it still looked like this. Well, if I am being honest, I used that large screw to hang my apron on. Hey, just trying to make lemonade over here.
The original white paint on the shelves was starting to yellow. I also wanted to remove the liner that was already on the shelves because it had become stained and dirty and didn't wipe clean very well.
During our son's nap (he helped by taking a rare three hour nap) we both squeezed in the small pantry to paint it. Painting a pantry is already a challenge because there are so many little spaces to get, not a lot of light, and so many lines between the wall and shelves.
Two people trying to paint inside a pantry at one time turns into an interesting game of twister with the loser getting paint dripped in their hair. But we needed to take advantage of nap time and move quickly on the painting process.
We didn't want to spend any money on paint for this space so for the walls we used a gray (Sherwin-Williams Dovetail) left over from the walls in the nursery and Sherwin-Williams ProClassic® Waterbased Paint in Bright White from our DIY baby clothes rack for the shelves.

Our pantry was just your typical messy pantry. It is no Butler's pantry but we are lucky enough to have a decent size pantry. Most of the problem is I didn't think through the best places to store things.
Once the pantry had a fresh coat of paint I thought, "Well I might as well buy all new storage baskets to organize when I put things back.
Michaels was having a sale, 1/2 off their baskets, so we jumped on the opportunity to get matching baskets. I was all like, "Score! Saving money!". Then we ran into Kroger to get baby food and they had the same baskets (of all places) for two dollars cheaper than that. I was a little deflated but it turns out we needed more anyway so we went back and got those as well. I also found a few more on Amazon.

Mismatched baskets, items not having places to go back to, clutter on the floor, and items getting pushed to the back of the deep shelves and "lost" made our pantry look and feel disorganized and dirty.
It is funny how just reorganizing the spaces and thinking through where items would fit better opened up so much more space in the pantry. By rearranging some space in our kitchen cabinets to store more of our gadgets and consolidating food items into bins, I was able to open up the top shelf and have the floor be completely empty.
I wanted to label what was inside the bins with large custom made stickers. Brent bought me a Silhouette Portrait printer for Christmas a few years ago and I am always looking for the time and projects to play with it so this was the perfect opportunity.
I designed my labels in the software that came with the printer.
I purchased the sticker paper that is for the printer and then let the printer works its magic cutting out the words. They turned out so cute.
The only down side is when I first made these I was thinking I would be using plastic bins but we ended up purchasing fabric totes (because sale!). They do stick for now, but I know they will not last forever so I am going to come back and make more with the heat transfer paper that is more appropriate for fabric.
Once we had all new storage containers I thought, "Well, we might as well go to the store and restock the pantry". A pantry makeover isn't complete without restocking it with lots of treats. We refilled all of our OXO Pop Containers Brent bought me for Valentine's Day several years ago. These are the same kind we labeled with the chalkboard tape.
Our pantry doesn't usually have this many snacks available and probably won't again until we have company but I'm enjoying it while it lasts.
These days baby nap time/bedtime = DIY project time and our baby is not big on sleeping right now so we really felt a sense of accomplishment finishing our pantry makeover project in the same weekend we started it.
I know what you are thinking, "Why not work on the master closet with the three day weekend?" I'm sure Brent was wondering the same thing. But he was sweet and helpful and just went along with my impromptu impulsive pantry makeover plan. We have been using the guest room as a closet for three months now, what's a few more weeks.
PIN THIS PROJECT

Like this idea and want to save it for later? Pin it by hovering over the image and clicking the P.