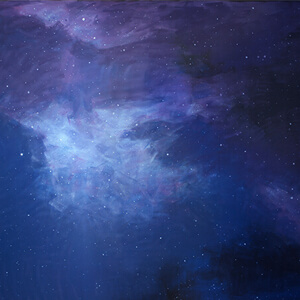 In this post we are showing how to paint a galaxy wall mural that will be the focal wall of our spaceship themed playroom.
We have DIY project number one of our spaceship themed playroom checked off our list! As you might have guessed we like to have one wall in each room we design be our focal wall. We have done a faux brick wall, a chalkboard art mural, a wood plank wall, a shiplap wall and now we wanted to give a brightly painted mural a try. We are excited to share our how to paint a galaxy wall tutorial.
We were brainstorming how to incorporate color into the spaceship themed playroom we are designing without it being cheesy or overpowering. The walls in the room are gray so we were hoping our focal wall could subtly add some nice color to the space.
We talked about painting a navy or black accent wall but then Brent had the idea to make the focal wall be the window of the spaceship and through the window you can see outer space with cool colors like blues and purples and lots of far off stars to create depth.
I loved that idea and when he showed me his inspiration photo I knew that was the direction that we had to go. So Brent got to doing his artist thing and the results were better than I could imagine.
And he is sharing his technique for getting this look so be sure to check out the video and steps below if you are interested in how to paint a galaxy wall mural.
How To Paint a Galaxy Wall Mural
SUPPLIES
Black of Night SW 6993 Paint (1 Gallon in Cashmere Low Lustre Sheen)
High Reflective White SW 7757 Paint (Sample Size)
Honorable Blue SW 6811 Paint (Sample Size)
Dignity Blue SW 6804 Paint (Sample Size)
Flyway SW 6794 Paint (Sample Size)
Dewberry SW 6552 Paint (Sample Size)
Fully Purple SW 6983 Paint (Sample Size)
Kimono Violet SW 6839 Paint (Sample Size)
Passionate Purple SW 6981 Paint (Sample Size)
Squares of Cardboard
FYI: This post contains an affiliate link to a product we used to make this project. Gray House Studio does receive commissions for sales from these links but at no extra cost to you. We appreciate you supporting this site. Read our privacy and disclosure policy. You can also easily shop our recommended products here.
Paint a Galaxy Wall Mural Video Tutorial
Never Miss A Gray House Studio DIY Video Subscribe to our YouTube Channel
Paint a Galaxy Wall Mural Tutorial
We found a photo for inspiration so first things first we needed to figure out what paint colors to buy that would match the colors in our outer space inspiration photo.
We have found the easiest way to find a color pallet from a photo is to use the Sherwin-Williams ColorSnap® Visualizer App. We opened the app, clicked the explore colors button and then the match a photo button to upload our photo.
The ColorSnap® Visualizer then automatically creates a color pallet from the photo. We fine tuned our color pallet by dragging the colored dots around until we found a color for each of the sections of the galaxy photo.
Our Galaxy Wall Color Pallet:
Background: Black of Night SW 6993
Stars: High Reflective White SW 7757
Dark Blue: Honorable Blue SW 6811
Blue: Dignity Blue SW 6804
Light Blue: Flyway SW 6794
Dark Purple: Dewberry SW 6552
Purples: Fully Purple SW 6983 & Kimono Violet SW 6839
Light Purple: Passionate Purple SW 6981
Courtney's dad was nice enough to paint the black background color. After it dried, we poured a small amount of our darkest blue color (Honorable Blue) onto a large square piece of cardboard. Using our photo as reference, we applied the dark blue paint with a 6 inch foam roller.
Before the darkest blue dried, we next applied all the colors that were going to touch the darkest blue colors. By doing it before it dried, we could mix the colors organically with the foam roller.
We started with the light blue (Flyway) in the center and moved on to the darkest purple (Dewberry) at the top.
Once the entire wall was covered with the dark blue, the dark purple, and the light blue, we mixed in the other blue and purple variations. To blend the colors we overlapped them at the edge.
Before painting the stars, we let all of the background colors dry for 24 hours. The stars are great at creating depth when applied at varying brightnesses.
We started in the dark blue area again with the same dark blue paint but mixed in a few drops of white paint. Then painted a variety of dot sizes all over the dark blue area.
Our general rule of thumb is the star paint should always be lighter than the background color and be the same hue. So blue stars go on the blue background and purple stars go on the purple background.
White dots can go anywhere on the wall but the light blue area in the center of the wall only gets light blue or white stars that are lighter than the background.
The galaxy wall mural really sets the stage for this room and is getting us excited about the rest of the DIY projects we have planned for the space.
We have a few more things to incorporate on this wall before it is completely finished but it has already captured our one year old's attention. He likes to crawl over to it and run his hands across the stars. And when the sun comes through the blinds, it creates a shooting star effect which is just a random added bonus!