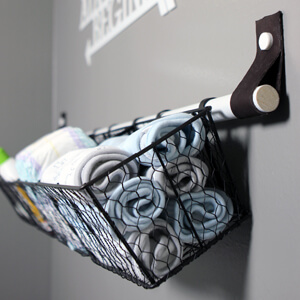 We used a dowel rod, scraps of leather, and a few baskets to create a simple nursery wall storage above the changing table in the nursery.
Last week we shared the baby changing table that Brent built for the nursery. This week we are sharing another project we worked on for that corner of the room, a nursery wall storage solution to go above the changing table that turned out to be really simple to put together and cost us next to nothing to make!
The changing table offers plenty of space to store and organize baby supplies but after browsing Pinterest for inspiration, I liked the idea of incorporating a way to store frequently used baby items so they are easy to grab in a second, right at arms length. Plus, we needed something else to fill up this wall. There are tons of ideas out there everything from using shelves to pegboards.
We ultimately decided to keep it simple and make a bar where we could hang a few wire baskets with supplies. We decided to use a dowel rod that we could spray paint white to match the vertical bars on the crib.
To mount the bar to the wall, Brent came up with the idea to make straps out of leather we already had leftover from another project to hold the dowel rod which I think looks awesome. My mom donated the baskets that already had the hangers attached to them.
This entire project costs us the price of the dowel rod.
UPDATE: Now that we have a wiggly four month old, this nursery wall storage above the changing table has made our lives a thousand times easier. I can grab the supplies I need quickly from the baskets while keeping a hand on him at all times.
Follow along with the video and steps below to see how to easily make this nursery wall storage project.
How We Made Our Nursery Wall Storage
SUPPLIES
FYI: This post contains a few affiliate links to products we used to make this project. Gray House Studio does receive commissions for sales from these links but at no extra cost to you. We appreciate you supporting this site. Read our privacy and disclosure policy. You can also easily shop our recommended products here.
DIRECTIONS WATCH
Never Miss A Gray House Studio DIY Video Subscribe to our YouTube Channel
DIRECTIONS READ
1. To begin the nursery wall storage project, we started by cutting the 1″ dowel rod 42″ long on the miter saw to match the width of the changing table.
2. To make painting the dowel rod easier, we hung it from the garage door by attaching a screw in one side. We painted a few coats and then sanded the rod and painted a few more coats.
3. Next, we took some leftover leather scraps and cut two strips to use to hang the dowel rod.
4. We measured and marked where we needed to drill the holes to hang the leather straps. Then we drilled two holes into the wall to make inserting the drywall anchors easier.
We marked a hole in the center of the leather pieces and screwed the leather loop into the drywall anchor. We used a hinged screw cover to cover the screw to finish off the look.
5. One the leather straps were in place, we hung the dowel rod from them.
6. To secure the dowel rod to the leather straps, we drilled one 1/2″ screw from the back of each piece of leather into the dowel rod so they would be out of sight. This just added an extra precaution that the dowel rod would not slip out of the leather straps.
Finally, we hung our wire baskets. They already had hooks attached because they were meant to hang on a different type of bar so we just adjusted the hanger part so they would securely fit around the dowel rod.
After the baskets were nice and secure on the rod, I added items I think we will need to grab often like burp cloths, diapers, lotion, wipes, etc.
To finish up this wall, we hung an adventure sign above the nursery wall storage bar that fits with our modern outdoor nursery theme. I love how all the projects came together for this area of the nursery and how it has a cohesive but non cluttered feel.
I know I (better yet…we) will be spending a lot time standing here changing diapers!