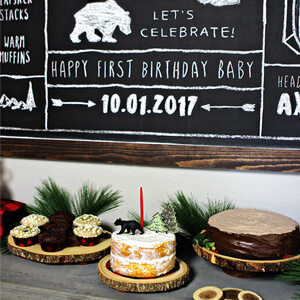 This fall we had a lumberjack themed 1st birthday party for our son. The party decor was packed full of fun DIY party projects. *This post contains a few affiliate links. We only link to products we have personally used and like. You can read our disclosure policy here
First birthday parties are probably more for the parents than the child (except for the cake part, kids love that first taste of cake). I really enjoy planning parties so I was excited to throw a big family party to celebrate our son turning one. As well as Brent and I surviving the first year of parenting!
A lumberjack themed 1st birthday party is not an original idea but we already had pieces that fit the theme and lumberjack party decor and inspiration is easy to find so I was all for working with what I had available to us.
We did quite a few DIY projects for the party that were really fun to work on together. Between Hurricane Harvey unexpectedly hitting Houston in August and our trip to New York in September, I wasn't sure the party was going to come together.
But while we were down to finishing up minutes before guests arrived, it turned out exactly like I had envisioned so many months ago. But the best part of all, Connor had a blast!
Lumberjack Themed 1st Birthday Party
You can find all the sources for the party at the bottom of this post.
LUMBERJACK THEME INVITATIONS
I designed the invitations, envelopes, and time capsule notes and printed all the pieces on our home printer. For the envelopes I purchased buffalo check scrapbook paper and glued it on the inside of kraft envelopes to tie them into the theme of the party.
We had a lumberjack photoshoot ahead of time and took some cute photos of Connor to display around the party. We included one of the photos on the back of the invitation.
We knew we were going to have a time capsule at the party where guests could write Connor a message for him to open on his 18th birthday. I included a lined note card for guests to write their message with the invitation so that they could write it ahead of time and not feel rushed or guests who could not attend the party in person could still participate.
I even designed a logo for the event and incorporated it into several of the elements including stickers and the chalkboard design above the food bar.
LUMBERJACK THEME FOOD BAR
Our coffee bar we built was the perfect place to display all of our lumberjack lodge goodies. We cleared it off for the party and even gave the large framed chalkboard a fresh look. We created a special design specifically for the lumberjack themed 1st birthday party.
At one end of the coffee bar was a trail mix station where guests could make their own yummy trail mix. I took regular brown paper lunch sacks and cut the tops off to make them a little shorter. I printed a design on the front of them by taping each one to a piece of paper to run through our home printer. That was really time consuming! And probably not worth it.
Next to the paper sacks were twig colored pencils for guests to use to write their names on their bags and mini clothespins to keep the bags closed in case they wanted to take their trail mix home with them.
On the other end of the bar were mini flapjack stacks displayed in a cast iron skillet with syrup and fresh fruit.
Keeping with the breakfast food theme, we also had warm chocolate and blueberry muffins. I love the buffalo plaid cupcake liners!
Brent baked two small cakes and they both turned out so cute and delicious! The guests were treated to this yummy chocolate cake.
For Connor's cake Brent baked a vanilla cake. We went easy on the icing. I picked up this cute little bear from Hobby Lobby and the trees were paper die-cuts that we taped to toothpicks.
It was Brent's idea to make bear footprints in the icing ("snow") which I thought was a clever and creative idea!
LUMBERJACK THEME PARTY DECOR
We saw a hula-hoop photo display idea on Pinterest that we really liked so we decided to make our own to fit our lumberjack themed 1st birthday party.
I think it turned out so cute. It was super cheap and easy to make Check out our tutorial for making this photo display.
We loved displaying the photos to show how much Connor has changed throughout his first year. This was a big hit with the family and all the grandparents wanted to take the display home with them.
We also ordered a 12×17 fine art print of Connor in his Lumberjack outfit. We made a magnetic wood rail poster hanger to display the photo at the party.
1ST BIRTHDAY PARTY TIME CAPSULE TABLE
We knew we wanted to incorporate a time capsule box at the party and I am so glad we did! It will be the gift that gives 18 years from now. Brent and I are close with our grandparents (Connor's great-grandparents) so the idea that when he turns 18 he will get message written to him personally from his great-grandparents is so special.
We set up a table at the party under a balloon arch for guests to decorate red envelopes with stickers and stamps and place their letters that they brought into the time capsule box. So in 2034 there will be letters from his parents, aunts, uncles, grandparents and great-grandparents for him to enjoy reading.
LUMBERJACK THEME PHOTO BOOTH
The photo booth was the last piece of the puzzle we finished up right before guests arrived and I realized we never got a great photo of our set-up. Bummer. But hopefully this poor quality one at least gives you an idea.
Brent made the backdrop out of cheap cedar fence pickets. Then we laid out an artificial grass rug. We set up my iPad on a tripod so that the screen was facing the backdrop. We also added one of our lights to make sure the pictures were nice and bright.
To take the photos we used an app called Photo Timer+ that worked really well. I liked it because it was really simple and allows you to set the countdown time and the number of pictures it takes. Then, all guest have to do is press a button and they can see a countdown. After the photos are taken they are stored in your camera roll. It worked perfectly.
What's a photo booth without props? We had planned on making our own but ran out of time so the easiest thing was to order some off Amazon. Yep, Amazon is a party planner's friend these days. It came with 34 pieces that were nice and sturdy and easy to assemble. They were better than we could probably have made anyway. Sometimes you DIY and sometimes it is just easier to buy.
We opened presents in the reading nook. This worked perfectly because family member sat on the couch and had a great view of the birthday boy. I can't believe he sat still up there and helped open every single one of his presents. He was so engaged the whole time, it was the cutest!
I decorated his high chair with red tissue tassel garland we bought at Michaels, a buffalo plaid bandanna (we bought several at Hobby Lobby to use around the party) and a silver foil balloon.
The kid was all about that cake. He is a fan and really enjoyed digging into the cake his dad made just for him. He didn't even want to wait to let us sing happy birthday first.
We hung our DIY photo display above the mantle and decorated it with a cute wood banner that I think I will leave up for the rest of the fall season.
LUMBERJACK PARTY SOURCES
FYI: This post contains a few affiliate links to products we used to make this project. Gray House Studio does receive commissions for sales from these links but at no extra cost to you. We appreciate you supporting this site. Read our privacy and disclosure policy.
All the guests came dressed in their best plaid attire to our lumberjack themed 1st birthday party! It was a fun day celebrating our sweet little boy!
Birthdays have always been a big deal in my family growing up. My parents were really good at making me feel extra special on my birthdays whether I had a big party with friends or we just took a day trip just our family to an amusement park. I can already tell I like doing the same for Connor.
He won't remember this day but we could tell he was enjoying being surrounded by family, playing with his new toys and trying cake for the first time. It's hard to believe a year ago we were meeting our son for the first time.
While that moment was extremely special, I'm not going to lie, I enjoyed eating cake and playing with my one year old at our lumberjack themed 1st birthday party a little better than laboring and delivering a 9lb. 6oz. baby without an epidural. Just saying.