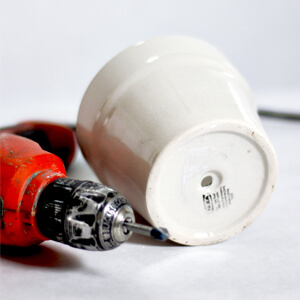 Today we have a super quick and easy tutorial that can come in handy for a variety of DIY projects. We are showing how to drill a hole in a ceramic pot.
Have you ever found a really cool ceramic pot you wanted to use to house your live plant but it doesn't have a hole in the bottom for drainage? Nothing is worse than killing a plant due to root rot. I am speaking from experience. I have killed plants in every way possible.
Just because a pot doesn't already have a hole in the bottom, doesn't mean you should pass up the chance to use it. You can easily turn any ceramic pot into the perfect planter with adequate drainage by drilling a hole in the bottom of the pot with a glass and tile drill bit.

With this skill and drill bit you can pretty much turn anything into a planter including mugs or even cute dishes like we did with our succulent display using a Tasting Party set from Pier 1 with these little ceramic cups sitting on a wood tray. The sky's the limit with what you can create.
VIDEO TUTORIAL
In the video below we will demonstrate how to drill a hole in a ceramic pot to make it more functional for live plants as well as show a DIY project you can create by drilling a large hole in the bottom of the pot.
To see new DIY videos on Thursdays, be sure to subscribe to our channel ⇾
SUPPLIES
MATERIALS
Ceramic pot (or any other ceramic piece)
TOOLS
Drill
5/16 inch glass and tile drill bit
How to Drill a Hole in a Ceramic Pot

1. Before drilling, put on your eye protection and earmuffs.

2. Make sure you have a firm grasp on the pot to hold it in place with the hand that is not holding the drill.

3. When drilling a hole into a ceramic pot, start with a firm amount of pressure pushing the drill down on the pot until the drill bit digs into the surface, then ease up on the pressure as the bit makes its way through the pot.
Use a consistent medium speed and avoid using a high speed and spinning the bit too fast.

In just one easy step, we now have a nice size hole for water to drain out of the pot.

4. Once you have a hole drilled in the bottom of the ceramic pot, you can add the plant and water it without worrying about the water building up in the pot leading to root rot. Of course if it is an indoor plant, you will want to water it over a sink or set it on a tray or dish to catch the access water that comes out.

Another cool thing we like to do with ceramic pots is to turn them into shades for modern light fixtures. Check out the video above as we show you how this can be done with a larger diamond coated, 1 5/8″ wide hole saw.
We found that a ceramic drill bit is an essential tool to have in your collection. By drilling a hole in the bottom of a ceramic pot you can make the pot more functional for live plants or you can create unique lighting pieces.
Want to see a DIY project you can make using this tutorial? Check out how to make a DIY Industrial Table Lamp or our DIY Wooden Wall Sconces!
PIN THIS TUTORIAL