Looking for gift ideas for the diy-er and maker in your life? We rounded up our favorite products from Brent's past wish lists and are sharing our recommendations on our go to tools to make making easier.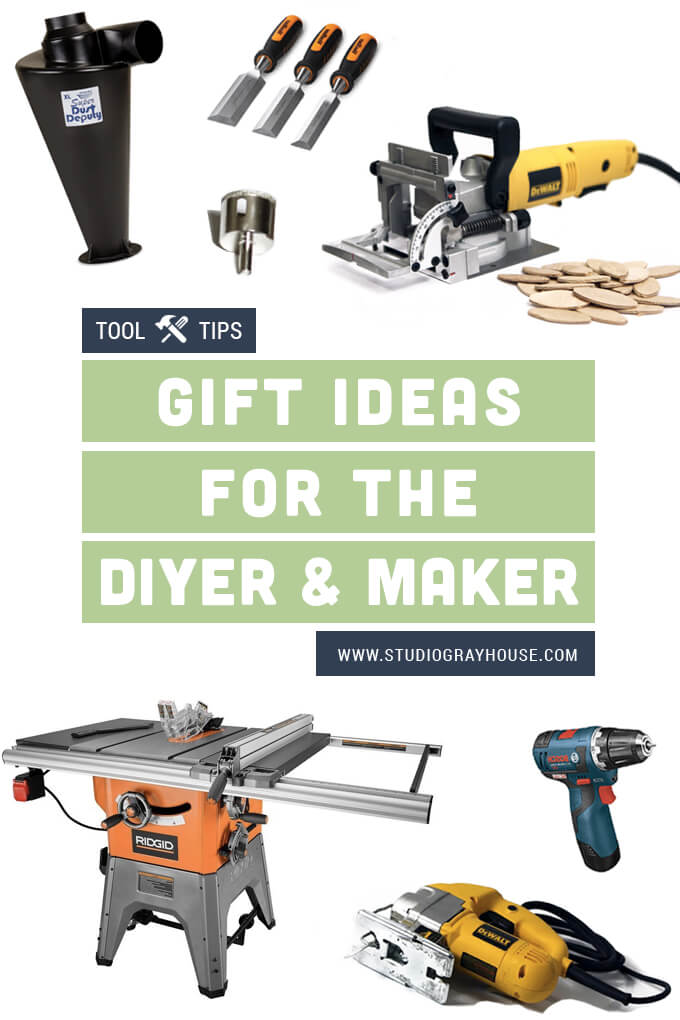 Just last night we were laughing about when we first moved into our home and started building projects like the reading nook and coffee bar, we did so with very little tools. We worked with the basics which made large scale projects challenging. As we know from experience, it takes time for the hobbyist woodworker or DIY-er to build up their shop with the correct tools to efficiently tackle home renovation and furniture building projects.
Each Christmas Brent would ask for one or two new tools for the shop and slowly over the years we have built up a nice collection. It is amazing what having the right tools for the job can do! We thought we would share a round-up of what tools we are using in our shop to work on our DIY home renovation projects.
The products we are sharing below all were on Brent's wish list and we now use frequently for projects. We included different price points so if you are gift shopping for the DIY-er, woodworker, or maker in your life, you can find something that will be a great addition to their shop and fit your budget.
FYI: This post contains a few affiliate links to products we used to make this project. Gray House Studio does receive commissions for sales from these links but at no extra cost to you. We appreciate you supporting this site. Read our privacy and disclosure policy. You can also easily shop our recommended products here.
Gift Ideas For the DIY-er and Maker
Gifts $25 & Under
Gifts $50 & Under
Gifts $100 & Under
Gifts $100+
We hope our list of gift ideas for the diy-er and maker makes your shopping a breeze or gives you an idea of tools that would be helpful to have in your own shop to tackle any of the Gray House Studio projects you see on the site. Once again, we appreciate you supporting our blog!
What tools are on your wish list this year?