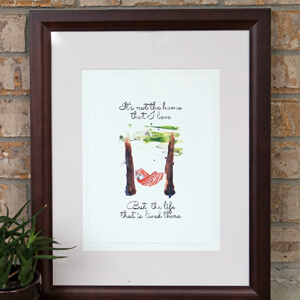 Our technique for easily and inexpensively framing prints printed from your home printer to make them look high quality. Plus, a free artwork download.
Hello! I hope you all had a fantastic Easter. Brent's parents came to Houston and we had a great time visiting with them for the long weekend. But just because we had company, didn't mean the home projects came to a halt, they got in on the action! Brent and his mom worked together on Saturday to build a towel rack for her bathroom. It turned our really nice. Here is the finished product.
We also managed to squeeze in a quick and simple art project yesterday afternoon. Today we are sharing that project as well as an inexpensive technique to frame prints straight from your home printer so you can get an expensive art look on a limited budget.
Brent's undergraduate degree is in printmaking and when we were framing the print for our guest bathroom, he had a really cool idea to turn a $5 dollar digital print into a high end work of art. We replicated that process with an original watercolor painting that Brent made this weekend to frame in our guest bedroom.

Brent is a talented artist, I can't draw to save my life. Which is funny because we were in the same art class together in 12th grade. I couldn't pick up the skill but that may be because I spent most of my time trying to think of ways to "accidentally" kick Brent's feet under the table to get his attention so he would talk to me.
I threw out ideas of creating a minimal piece that captured our dreamy backyard and Brent made it come to life with watercolors. If you have the artistic ability to paint or draw then the first step would obviously be to create your work of art. If you are like me and not as skilled with watercolors as Brent, then there are lots of really cool prints that are fairly inexpensive on Etsy as digital downloads or you can download this watercolor print Brent made for free at the bottom of this post
Below Brent explains his technique for framing prints.
Framing Prints and Artwork

1. Traditionally, fine art prints are printed on thick 100% cotton paper with a torn edge. I replicated this effect with paper that we found at an arts and crafts store. The typical size of this paper is 19.5″ by 25.5″ so I had to tear it down to size. When tearing the paper down to the size, I measured at least 2 inches in from the edge so I had enough paper to hold on to.

2. Before tearing the paper, I flipped my ruler over so it was upside-down with the metal edge flush against the paper. For a consistent edge all the way around the artwork, I always place the ruler on the paper I plan to use and pull the extra paper. Don't worry, I know what you are thinking, but you don't have to have hairy arms to be good at tearing paper it just takes practice.

3. For this project I tore my paper down to legal size 8.5″ x 14″.

4. I scanned my watercolor piece into the computer for the purpose of this project so I could print it. I placed the paper in our home printer and made sure to select the same size paper I tore. I also made sure the paper setting was set to "best" or "photo" quality and "cardstock".

5. I'm a bit of a perfectionist when I make artwork. A crease in the paper of any fine art is highly frowned upon so I stand and wait to grab the print from the printer to avoid having the printer throw it on the floor when it is finished printing.

6. When printing on legal sized paper there is a lot of white space above and below the image. I never trust the printer to center the image on the paper exactly so this extra space allows me to tear off paper on the top and bottom of the page to center the image.

7. The final size I tore my paper down to is 8.5″ x 11.5″ because the mat opening in the frame is 10″ x 13″. This give some space all the way around the artwork to show off the print's torn edges. I used an additional piece of the same paper I tore behind the torn piece with the image to fill in the gap between the artwork and the mat.

Here is the finished product. The torn edges and layering two pieces of paper gives the print depth and reflects a more traditional fine art piece. If you are interested in trying out this technique of framing prints and need a print, feel free to download Brent's watercolor print for FREE!
PIN THIS TUTORIAL