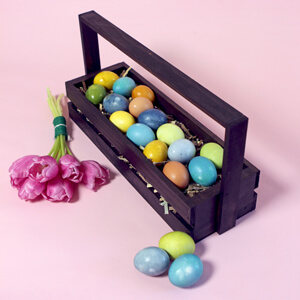 How to make a DIY Wooden Easter Basket filled with naturally dyed eggs.
Easter is right around the corner and one of my favorite traditions is Easter lunch with my family. My mom always sets a gorgeous table but this year I wanted to contribute something to the table setting (since we all know I can't contribute much in the food department). I thought it would be nice to build an inexpensive DIY wooden Easter basket centerpiece and fill it with naturally dyed eggs to display in the middle of the table.
I completed this project in two parts over two days. The first day I was in the kitchen playing mad scientist trying to create the right solutions to get the perfect colors to naturally dye the eggs. The second day I was in the garage/shop playing builder making the wooden basket. Surprisingly, building the wooden basket went waaay faster than dying the eggs.
Part 1: Dying the Eggs
I haven't dyed eggs in forever, since I was little but I saw so many pretty naturally dyed eggs done by other bloggers that I really wanted to give it a try. I am no expert when it comes to dying eggs, especially with food, in fact the only thing I am an expert in is making messes so if nothing else I knew that was going to be an outcome. But I had a Friday afternoon off and really wanted to play, I mean experiment in the kitchen.

I followed the lead from a few other bloggers when it came to my Easter egg dying supplies. Red cabbage, turmeric, and blueberries seemed to be popular choices for dying solutions. I threw in grape juice in there just for the heck of it. Then of course I needed the eggs, vinegar and jars.

First I boiled the eggs. I am kind of embarrassed to admit this but I had to look up how to do this. Thank you Google. Ha, I'm telling you I really don't belong in the kitchen. But you never know if you never learn, right?

I transferred them to this colander that was my great-grandmothers to cool while I started making the solutions.

I hoard almost empty candle jars so before this project began, I removed the wax left in the jars with boiling water, cleaned them up and then they became the perfect containers for the eggs to soak in. I labeled them with my favorite chalk tape so I could remember what solution I put in each jar.

I am VERY good at making messes. Above is the proof. While I did have about a million dishes to clean, luckily I put down some white paper over the counters so I could just roll it up in a ball and throw it away making cleaning up a tiny bit easier.

I let the eggs sit for about three hours and then I started to realize that some were getting a little more saturated than I expected or wanted. I removed the eggs from the blueberry jar, grape juice jar, turmeric jar and spinach jar.
The spinach ones didn't turn out at all because I kind of used more lettuce from a left over salad than spinach…oops. Ha. So I made a second attempt at creating a green color. I mixed the left over blueberry solution and turmeric solution and let a few eggs soak in it overnight. I also left the red cabbage to soak in the refrigerator overnight.
I wanted to build a wooden basket that was rustic and fill it with eggs that were colored with earthy tones. The colors turned out a little brighter than I expected, more like I collected them from my pet chicken that came straight out of a Skittles commercial, but oh well, they are still pretty.
My impromptu green solution worked really well. I got a really dark green. Almost too dark, so I mixed in a little red cabbage solution into the existing mixture and soaked two more eggs in it for about 15 minutes and it gave me the light green that I wanted.

The eggs that soaked overnight in the refrigerator in the red cabbage mixture definitely gave the best color. And my mind is still blown that this pretty color came from red cabbage. I didn't quite strain all the cabbage out well enough so some pieces of cabbage got stuck to the eggs while it was soaking but it created a cool pattern.

The grape juice and vinegar mixture made for a really weird reaction on the egg shell. It turned gray, had raised spots and created a crackle texture. I think it looks totally awesome, like I created a dinosaur egg! (Who do I send my resume to at Jurassic Park?) Even though it did not make the cut to the Easter basket centerpiece, because let's face it, it looks really ugly, it is one of my favorites because of how weird it turned out.
Part 2: Building the DIY Wooden Easter Basket
Once the eggs were drying, I was ready to start building the wooden basket. I wanted to spend zero dollars on this box so I rummaged through our scrap wood wheelbarrow looking for some pieces that would work. I decided I wanted the bottom part to look like a wooden crate but I wanted it to be long and narrow and I wanted a handle to make it look like a basket.

For the bottom piece I used a scrap piece of markerboard hardboard left over from our vintage gym clock project. I used the table saw to cut it down to size so it would be the correct width and length to be the bottom of my box.

I took a few pieces of scrap wood and cut the pieces down to the size I wanted and started to assemble it.

I used a nail gun to attach the wood pieces to the bottom piece of hardboard and to each other to create the box. Brent just got his nail gun for Christmas so this was my first time using it. Whoa. To say it makes projects go so much faster is an understatement. I did not want to put it down. It made me feel so powerful.

Once the bottom of the box was built, I cut the pieces for the handle.

I used wood glue and clamps to attach the handle to the base of the wooden basket. After the glue dried, I stained the wooden basket.

To avoid spending any money on the basket filler, I just ran a few pieces of various shades of brown colored construction paper through a paper shredder. I put a piece of cardboard in the basket and covered it with the shredded paper so the eggs would sit higher up in the basket,
Besides spending a few dollars on the eggs and food to dye them with, this project cost me pretty close to nothing and I am really happy with how it turned out. I like creating versatile pieces so after our DIY wooden Easter basket does it's job as a centerpiece I will repurpose it and use it to hold plants on my mantle for the rest of spring.