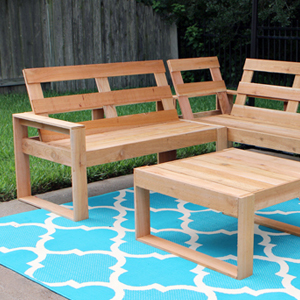 As part of our patio makeover we made a three piece West Elm inspired DIY outdoor sectional out of cedar fence planks for under $100.
Brent and I like to challenge ourselves when it comes to our DIY projects. "Do It Yourself", to us, doesn't always necessarily mean doing something for as cheap as possible. Most of the time we think of it as meaning making something exactly how we want it when we can't find what we are looking for and by doing it ourselves we can better control the cost to fit our budget.
For our latest project, a DIY outdoor sectional, we were all about both, customizing a piece to fit our space and a low price tag. Our challenge was to see how inexpensive we could make our version of this three piece outdoor sectional from West Elm.
And while this project definitely required putting on our thinking caps, lots of measuring and remeasuring, and guessing how much wood we could fit in the back of my Jeep at one time, we are proud to say we built the entire thing from scratch with cedar fence pickets for under $100.
How To Build a DIY Outdoor Sectional
SUPPLIES
5/8-in x 4-in x 8-ft Cedar Pickets
3 Bench Cushions

(the color we purchased is no longer available but this is the same size and style)

Measuring Tape, Pencil
Framing Square
FYI: This post contains a few affiliate links to products we used to make this project. Gray House Studio does receive commissions for sales from these links but at no extra cost to you. We appreciate you supporting this site. Read our privacy and disclosure policy. You can also easily shop our recommended products here.
DIY PROJECT PLANS
How to make right and left arm sofas
1. To start the furniture build Brent cut the bench seat supports. These boards support the weight placed on the bench and are attached vertically to help prevent the boards from bowing. He cut the boards the same depth of the seat cushion, which was 16″ for our cushions.
The back of each board was cut at a 22.5 degree angle with a miter saw to allow the back of the bench to angle allowing more room for our pillows and making it more comfortable to lounge.
2. We cut the front and back boards of the sectional piece the same width as our seat cushion. These boards attach to the bench supports (which Brent cut in the previous step).
We doubled up the boards in this area by laminating two cedar planks together with wood glue. This created a stronger bench and will prevent the bench from bowing when weight is placed on it.
3. Next, we attached the seat supports to the front board with wood glue and 1-1/2 inch finishing nails nine inches apart from each other.
4. We also doubled up the boards for the back horizontal support and attached the back support to the angled side of the seat supports using 1-1/2 inch finishing nails and our nail gun.
5. The side braces are doubled up as well. We attached the side braces flush with the front of the bench but cut them to extend deeper than the seat so they could support the angled back.
How to make the corner piece
6. The corner sofa was built the same way as the right and left arm sofa pieces except we built the left side brace so it was angled 22.5 degrees to allow the angled back to wrap around.
To accommodate the wrap-around back, we extended the outside frame on the left side to support the back.
How to make the legs
7. The legs on the front side of each bench are 15 inches tall and we attached them flush to the top of the seat.
For the legs in the back where there is an arm rest, we extended those above the seat to support the angled back.
How to make the back
8. For the back pieces of the sectional we built those to extend 18 inches above the seat and attached them to the angled seat brace. Then built it so the back brace connected to the legs.

9. Finally, we attached horizontal slats to the back and seat areas with with wood glue and 1 inch finishing nails.
I know what you are thinking, cedar fence pickets, really? But we can happily confirm that it is in fact very sturdy and comfortable especially once you add some cushions. For a much more affordable knockoff version we think it turned out great. Plus, by going this route we were able to complete our back patio makeover much sooner than if we had to save up to buy a set.
Outdoor furniture is so hard to keep clean and in tip top shape especially here in Houston where it is almost always humid and you can't escape mildew! And mildew and rust do not discriminate whether you have a $100 outdoor sectional or a $2,000 outdoor set.
I think our DIY Outdoor Sectional for Under $100 turned out awesome and is comfy with all the cushions and pillows we got from At Home. It is exciting to have lots of seating on our back patio now for us and our company to enjoy.