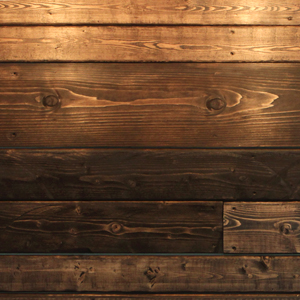 A video tutorial to create weathered wood from brand new wood.
Hey guys! Today we are going to show you how to create weathered wood using new wood that can be used in a wood wall liked we made for the back of our reading nook.
MATERIALS
Spruce-Pine-Fir Furring Strips (various widths)
Rust-Oleum Wood Stain, Kona
TOOLS
Hammer
Nails
Clamps
Drill
Wire Brush Drill Attachment
Table Saw
*This post contains an affiliate link. You can read our disclosure policy here.
How to Create Weathered Wood Video
To see more of our DIY project & tutorial videos, subscribe to our channel ⇾
When we started making our wood wall we tried to use old weathered wood from left over pallets but we quickly learned that wood pulled off pallets tended to be gross and broke apart really easy. So instead we bought new Spruce-Pine-Fir Furring Strip in various widths and decided to create the weathered look ourselves so that we could control the color and appearance of each board so that when we put the wood on the wall we could create a pattern that appears random yet balanced. That makes sense, right?
First we hammered two nails into the ends of the boards and then pulled the nails back out to give the appearance that the board had been ripped off of a pallet. After that we use a metal brush attached to a drill to remove the soft wood from in between the grain lines. This is the approach that we found give the most significant and realistic weathered appearance. This also evenly roughs up the surface so the stain soaks in more easily creating a darker more even finish.
The last thing we did was run the surface of the board along the edge of the table saw blade to give it the circular blade marks. When cheaper wood is milled, the surface is not finished smooth. The new wood we used was smooth so we needed to add these marks back on to give it an authentic appearance.
The final step is to stain the boards. We used an oil based stain. Even though it is messier than water based stain we have had better luck achieving a darker finish with the oil based stain. The boards that haven't been roughed up will be lighter and the ones with the marks will be darker.
Once the stain is dry to the touch, you can start putting it up on the wall! Have any questions? Let us know in the comments below.
Check out how to install weathered wood boards on a wall like we did in our reading nook.