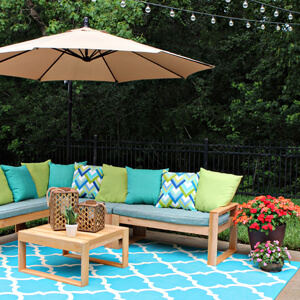 Check out our back patio makeover and how we gave it a much needed refresh for spring.
The time has come to reveal our back patio refresh! Yay! We have had all our awesome finds from At Home just sitting in the empty room that is soon to be the nursery and I have been dying to get them out where they belong for almost a month now! So we are thrilled to finally have this space finished and be able to share what we did.
We had these grand plans to have the entire backyard completed (new flower beds, a fire pit, etc.) by this point but as I am sure you may know, life sometimes gets in the way. What can you do? There is only so many hours in a day and so many weekends in a month. You can't control the weather and let's face it, sometimes you are so tired you just don't feel like doing anything but sitting on the couch, eating pizza and watching a marathon of a dumb reality show.
So we are just rolling the back patio overhaul out slowly one area at a time. But we have already made a huge leap forward with our back patio makeover by creating our lounge area.
BEFORE:

In all the excitement of decorating this space I forgot to take a before picture at an angle facing back towards the greenbelt but the one from when we first moved into the house is close. Before, the patio was hardly a patio, it was just an empty and ugly slab of concrete. So much work needed to be done in this space.
AFTER:

We are absolutely in love with our back patio makeover and the completed lounge area. The colors pop so nicely and every single item we picked out goes so well together and is an integral part of the space. It was well worth the time we took at the store to make sure everything coordinated and worked well together.
For so long we had to look out our back windows at just an unattractive concrete slab and now this bright cheerful area really makes us happy every time we look out the window. It is so welcoming and cozy that we can't wait to spend spring and summer nights under the string lights lounging on our comfy cushions and host backyard BBQs now that we can seat lots of friends and family.
BACK PATIO MAKEOVER DETAILS
First things first we did some work on the concrete slab. We filled in the huge gap in between the two slabs as well as some of the really large cracks where grass and weeds would frequently grow through. The previous owners had foundation work done and it did a number on the concrete around our home including the back patio where we have huge ugly patches left behind as reminders so we needed to find ways to disguise the unattractive areas of the concrete. Next, we power washed, stained and sealed the concrete to get rid of all the gross mildew and make it easier to clean when it does come back.
After our concrete was in better shape we started decorating the space with the items we picked out from At Home. We have said it a couple of times before but At Home is really the one stop shop for outdoor decor because they have such a wide variety of items in just about every color you can imagine and you can easily stay on budget. In case you missed it, you can read more about our At Home shopping trip and all the outdoor decor we picked out in more detail.

We first picked out the Azure cushions we liked from At Home and then built our outdoor sectional based on the dimensions of the cushions so we would be 100% sure they would fit. The size of the cushions also helped us determine the number of pillows we needed. We will share more details about how we built this awesome sectional for under $100 in the coming weeks. The cushions and pillows make this seating area so comfy and cozy.

We built the coffee table to match our outdoor sectional and it was the perfect place to put these super cool lanterns that were our splurge items (they were not very expensive, they just were not on our initial list) during our shopping trip. They hold candles so they can add a little mood lighting at night.

Can we talk about how awesome this umbrella is? It is functional, covers almost the entire sectional providing much needed shade during the day, and really helps define the space. And it was only $80. Boom.

We love the color and pattern of this rug and how it contrasts with the new color of our concrete. It is so bright and cheerful and just invites you to kick off your shoes and stay awhile. Bonus, the large rug covers a huge nasty crack in the concrete slab easily helping to disguise the faults in the concrete.

These blue chairs will eventually go around our outdoor table that we plan on building but for now we added them to the lounge area to provide extra seating. They are really comfy and we like that the mesh fabric will allow them to dry out with all this rain we are getting here in Houston.

I love relaxing in our new lounge area. We are so happy with all of our choices and how everything came together to really give this space a much needed refresh.
Check out how we built our DIY outdoor sectional for under $100!

So what do you think? I know there isn't much to compare it to since we literally started with a blank space but we are really proud of our back patio makeover and just the overall tone it sets in our backyard. Its funny, adding just a few bright outdoor decor pieces can make a huge difference in a space and make it much more enjoyable and welcoming.
If your backyard is in need of a little refresh, we hope this gives you a few ideas for your back patio makeover and the confidence that you don't have to spend a ton of money to create your perfect outdoor oasis. For more awesome outdoor living inspiration, be sure to check out HGTV's Spring House for lots more spring refresh ideas!
Tell Us: What is your favorite outdoor decor item to transform a space?
This is a sponsored conversation written by me on behalf of At Home. The opinions and text are all mine.