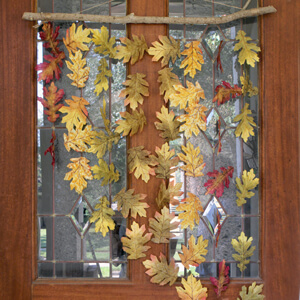 I am lighting my favorite fall scented candle (leaves from Bath & Body Works) today because it is officially autumn! This time last year Brent and I visited Boston and my favorite part was to see all the leaves changing colors on the trees, they were gorgeous! I wanted to pack up all the foliage in my suitcase and bring it home with me since it usually takes awhile to see and feel fall outside here in Houston.
I love autumn but Brent and I have never been big on decorating for the seasons. One reason is lack of budget and another reason is a lack of storage. We just don't have enough space to store decor for spring, summer, winter and fall. However, we have this great covered front porch that is spacious and we like to spend a lot of time on in the cooler months and I mean who doesn't love a porch decorated for fall?
We wanted to bring fall to our front porch this year so we got to thinking and came up with four fall DIY front porch projects that included the following criteria.
Inexpensive – projects that would allow us to use the free decor from nature laying around in our yard
Easy to store – projects that didn't include a lot of pieces and could lay flat
OR
Can effortlessly transition – projects that we could use for the next season or recycle for another project
Here are the nature inspired DIY front porch projects we came up with.
1. Leaf-Shaped Doormat
The first thing we made was a fall themed custom shaped doormat for our doorstep. This one is inexpensive and easy to create so it was a no brainer. Plus, it lays flat so it should be easy to wrap in plastic and store under a bed if it is still in good condition by the end of the season. If not, the doormat only cost us $10 so it wouldn't be a huge loss if it gets a lot of love and needs to be tossed by the time December rolls around.
We purchased our plain doormat from IKEA and decided to cut out a maple leaf shape. Because we live down here in Texas we spray painted the saying "It's Fall Y'all" onto it. Sure, it is a little corny but that way when we walk out the door our doormat can remind us that despite the temperature, it is in fact fall.
Whether you have a huge front porch or live in an apartment with just a doorstep, this is a great way to bring a little fall or Halloween decor to your outside entry.
To see how to make this project, check out our full tutorial on our custom shaped doormats.
2. Cedar Picket Pumpkins
Our next project to tackle was to make a pair of rustic pumpkins out of cedar dog-ear wood fence pickets. This is another extremely inexpensive project because each piece of fence costs around $2 and each pumpkin only needs one fence picket. It was really quick to make as well because we dug around the stack of fence pickets at the hardware store until we found two that had the deepest natural orange shade so we didn't even have to paint them!
We wanted two pumpkins that were different heights so for the taller pumpkin Brent cut the picket in half to create two pieces that were the same length. For the shorter pumpkin he cut three pieces the same length. Then for the piece that had the corners cut off he cut it in half vertically and placed each piece on the outside of the middle board(s) for each pumpkin.
To attach the boards together, Brent cut a strip of 1/8 inch masonite the width of the pumpkin and screwed through the masonite into each picket with 1/2 inch screws. He created the stems by cutting a scrap piece of wood into trapezoids and then painted them with watered down green paint. He attached the stem to the pumpkin with a 3/4 inch screw.
They are flat so they would also be easy to store under a bed or because we did nothing to the wood, we could recycle and use it for another project such as making a box or a tray.
3. Natural Leaf and Branch Door Hanging
For our third project we were in search of an alternative to a traditional fall wreath for our front door. We decided to make a natural leaf and branch door hanging. This one cost us around $12 only because we couldn't find any leaves outside I liked where we lived. We don't have the best looking leaves in our yard so we opted to buy some silk leaves from the craft store. You could use also paint leaves from outside or make paper leaves.
To make it we used a branch off one of our trees that we had just trimmed and cut it down to fit our door. Then we used a needle to thread fishing line though the leaves. We varied the lengths of the strands of the leaves and situated the individual leaves in different positions to give the appearance that they were falling and to create visual interest.
For the bottom leaf on each strand we positioned a washer between two leaves so that it would hold the weight of the strands of leaves down and prevent them from blowing around and getting tangled. We attached each line of leaves to the branch with thumb tacks.
I love this project because it looks like the leaves are just floating on my front door. To store this one I will most likely pull off the silk leaves, washers and thumb tacks and store them in a plastic bag and discard the branch. That way I don't have to store the entire thing and I can start fresh next season with a new branch and create a new pattern.
4. Fall Crate Display
We wanted to create a display on our porch where we could pull together a few additional decor items into a place with purpose. Using crates to give varying heights allowed us to incorporate a variety of items.
The three crates cost us $30 so they were definitely the most expensive item we purchased for these projects but the beauty of them is they can easily transition with each season by just switching out the back panels we created and adding different natural decor and seasonal flowers.
The majority of the items we put in and on the crates we already had around the house such as the lantern and the green tin. We picked up some new plants and some hay to finish the look.
To see how to make this project, check out our full tutorial on our fall crate display.
We completed all of our fall DIY porch projects on one Sunday afternoon and now our entry way is ready for fall!
Gray House Studio on Great Day Houston
We had the fun opportunity to share these fall DIY front porch projects on Great Day Houston last week. It was our first time on TV and it was live so we were a little nervous but host Deborah Duncan is so sweet and fun and we had a blast spending the morning at the studio. If you missed it live or don't live in Houston, you can watch via the link below to see and hear more about our do-it-yourself fall decorations.